Private Label Services by TGD
For the Web Agencies that has a regular flow of work, Dedicated Hiring/ Partnering with TGD for Offshore Outsourcing will be even a better choice for saving more. With a minimum 3 months commitment you can hire the resource from us on a Part-time/ Full-time Basis. This is simply because Hiring someone locally will be less-advantageous for you, wherein by partnering with TGD team you will get the
TGD PARTNER ADVANTAGE
as follows:
No Office Rent/ Infrastructure Cost
Zero General & Administrative (G&A) Cost
No Staff Training & upgradation needed (TGD CoE already take care of the training need internally)
Faster Turnaround (Advantage of Time-difference for you to work 24X7, be more Responsive)
Greater productivity from expert Team
Competitive Pricing model (Less than One-third of your Onsite Hiring)
Timely Delivery, within budget - Spend Less, Save More!
Broader Business scope - as you will save more time for Sales, marketing & business promotion/ expansion.
Reliable, TRUSTED & AWARDED Team support 24X7
You may find the above process of "TGD PARTNER ADVANTAGE" pictorially represented in the following diagram: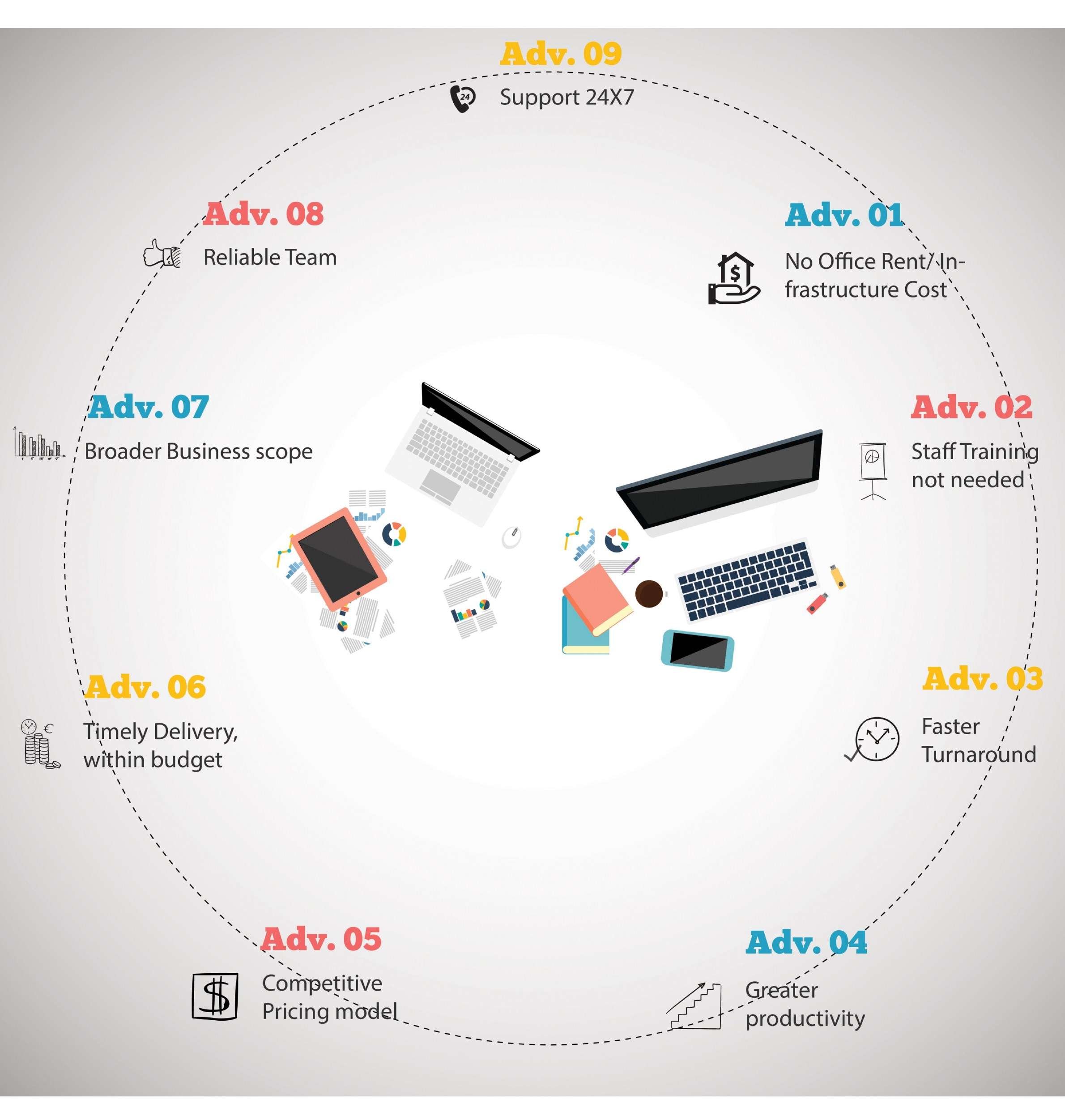 The banner diagram clearly explains the "Private Label Services" offered by TopGraphicDesigns(TGD). This service is ideal for the International Design Studio, Advertising, Digital Marketing, Digital Branding, Print Media Agencies etc. This process enables the company to have upto 70% of SAVINGS by Innovative Outsourcing to TGD. This will help to have a seamless delivery & support 24X7, wherein you as a client can focus more on generating business orders/ revenues with more time for client acquisition & repeat orders, and we take care of your Quality Delivery requirements On-Time, within Budget. The full process of your Digital Marketing & Online Design/ Branding initiatives can be outsourced to TGD as a 360 Degree Full Service provider.
Let us explain this simple process step-by-step: Any International Design Studio, Branding or Printing Agency, and IT Service Agency can suitably opt for this service at ease using the following 8 EASY STEPS:
Contact TGD Team for Private Label services & choose your SPoC (Get in touch with our Single Point of Communication (SPoC) who plays the role of a Project cum Account Manager and will be the single touchpoint from TGD for you. This helps in having seamless communication between you & the TGD team.)
Discuss your varied project requirements for Digital Marketing, Branding, Design & Animations etc., with your TGD SPoC and get the suitable resources allocated on your project.
Set the budget & timeline to kick-start.
Get the work delivered within the mutually agreed timeline (as per the preset delivery milestone).
Send the updates for your client Review & Approval request (with your logo/ brand mark).
Get your client approval/ revision request for us to send you the updated version/ solution
Make the final payment & get the Private Label source files
Deliver the final files to your client (with your Logo/ Brand mark) & pitch for the next project/ business order.
PARTNER & GROW with us to get all the above Advantage being associated with TGD Team as your Offshore Outsourcing Partner for Growth with our "Private Label Services". Kindly review & contact us for more details to get started your
70% SAVINGS & BUSINESS GROWTH.
Who Can Possibly Be Our
Ideal Partners
Digital Marketing Agencies
Advertising Agencies
Brand Development Agencies
Interior Designers
Market Research Firms
Mobile App Development Companies
Game Development Companies
Graphic Design Agencies
Prepress Printing Houses
Animation & Video Production Houses
Web Design & Development Companies
Product Development Companies
Architect Firms
Consulting Companies
We are now enrolling new Private Label Partners from all across the globe on a first service basis.
Contact us for more details & get your FREE Test mock-up design done by the TGD Professionals.